Pipeline inspection
---
---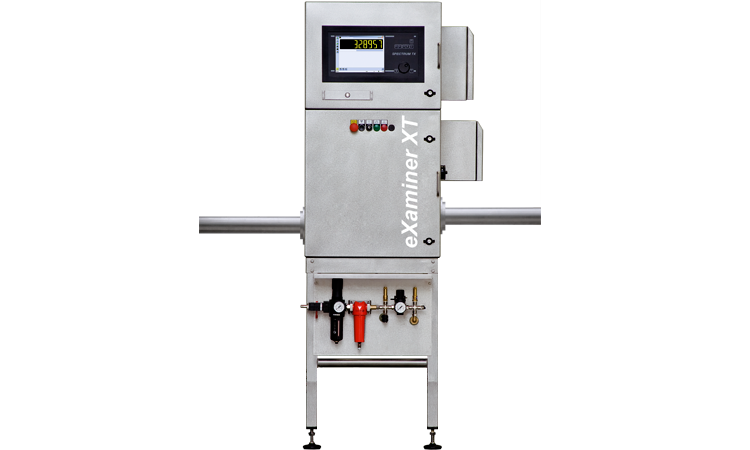 HEUFT eXaminer XT
Detecting foreign objects reliably: first identifying and then packaging.
There is always a danger of contamination due to pieces of metal, glass splinters, pieces of plastic or stones when raw materials are processed into a liquid or paste-like product mass. The HEUFT eXaminer XT identifies such foreign objects in unpackaged products such as sauces, jams, fruit preparations, cheese spreads or sausage meat. The particularly low-radiation, pulsed X-ray technology of the pipeline inspector is impressive even at high throughput rates due to maximum detection reliability.
Pipeline inspection
A precise look into the pipe: pulsed X-ray technology.
Pieces of metal, glass splinters or stones: the system already identifies foreign objects such as these before the packaging process highly precisely. The product mass is transported through a specially constructed, hermetically sealed pipeline which is illuminated by means of an X-ray strobe.
Read more...
The extremely short exposure time reduces the radiation exposure as well as motion blurs to an absolute minimum in the course of this: high-resolution pictures are produced even at high / fluctuating transport speeds which each display a complete section of the production flow. These are digitised and specifically evaluated by the HEUFT reflexx high-performance image processing system. In contrast to conventional metal detectors the product's own signal does not have a negative effect on the detection performance of the HEUFT eXaminer XT. It not only finds metal contamination reliably but also solid foreign objects made of other materials.
Fault rejection
Preventing recalls: the reliable rejection of the contaminated product mass.
The HEUFT eXaminer XT emits a corresponding signal if it has detected a risk to product safety. Therefore the partial quantity in question can be reliably removed from the production flow.
Performance validation
Playing it safe: self-diagnosis.
The pipeline inspector is equipped with a test program for validating the performance. It checks the detection performance at freely configurable intervals. This ensures that it always finds what it should.
Optional additional functions
Improving the inspection result: dual beam for a 3D reconfirmation.
The HEUFT SPECTRUM TX systems with their modular design can be extended at any time. For example the HEUFT eXaminer XT can therefore be expanded by means of an additional X-ray strobe. This dual beam technology makes the analysis of two overlapping individual pictures possible and with that a 3D reconfirmation of the result of the examination from different angles of vision. The second X-ray image therefore improves the inspection result. This increases the detection reliability and reduces the amount of false rejections.
HEUFT SPECTRUM TX
Controlling centrally: one platform for all requirements.
Precise, network-compatible and cross-system: the HEUFT SPECTRUM TX forms the basis for different technologies, modules and functions. The devices of the generation of the same name can be exactly adapted to individual requirements on site and retrofitted at any time due to this universal platform.
Read more...
A cross-system component equality of 70 per cent ensures a high availability of spare parts. The central HEUFT SPECTRUM TX control unit creates a high level of precision during continuous product tracking and quality assurance due to its multiprocessing capability. A future-proof network connection ensures reliable remote maintenance and production data acquisition for optimum efficiency and productivity. In-house developed hardware and software and its own operating system ensure computing power and offer no opportunity for viruses or malware.
HEUFT PILOT
Lavorare con I sistemi HEUFT in modo affidabile: interfaccia utente grafica e pratica.
Chiara, utile e precisa: l'interfaccia grafica HEUFT PILOT è corredata di menù multilingue facili da capire e di diversi strumenti ausiliari. Pertanto l'utilizzo dei sistemi HEUFT SPECTRUM TX non è difficoltoso.
Leggi di più...
Importanti informazioni e chiari messaggi di errore forniscono all'utente un supporto specifico. Questo evita regolazioni sbagliate e riduce i tempi di fermo,ad esempio per i cambi formato. Livelli operatore protetti da password sono configurati in base all'area di competenza dell'operatore, cosa che contribuisce alla facilità d'usa del dispositivo. Sono inclusi: un completo manuale online e uno strumento per identificare e ordinare le parti di ricambio in modo semplice.
HEUFT reflexx
Combinazione di fotografie e rilevamento affidabile di oggetti: elaborazione immagini in tempo reale.
Velocità, potenza e precisione: combinare assieme immagini da telecamere e moduli a raggi-X e riuscire a rilevare specifici oggetti. La tecnologia HEUFT reflexx svolge in tempo reale tutti questi compiti.
Leggi di più...
Hardware e software sviluppati da HEUFT forniscono un'elevata capacità di calcolo e sono configurati esattamente per venire incontro alle esigenze del controllo qualità della linea produttiva, producendo immagini di rilevamento ad alta risoluzione e analizzandole con precisione. Le tecnologie di filtro integrate, poi, distinguono chiaramente tra difetti reali o solo presunti. In questo modo si riducono decisamente i falsi scarti.
Tecnologie di rete
Tutto in rete: essere "online" per far crescere efficienza e qualità.
Trasmissione di informazioni in tempo reale, acquisizione dei dati di produzione, analisi della linea e manutenzione da remoto: la rete è la risposta!
Leggi di più...
I sistemi HEUFT sono dotati di interfacce all'avanguardia di rete (Gigabit Ethernet e TCP / IP) e di database (SQL / DDE) per la massima efficienza della linea e del controllo qualità, con flussi di lavoro più veloci e semplificati. Pertanto dati di produzione, registri degli accessi, difetti di produttività e analisi dei valori HACCP sono disponibili online. Il risultato di tutto questo è una precoce identificazione dei problemi. La connessione ai servizi di HEUFT TeleService è protetta da firewall e garantisce l'assistenza remota 24 ore su 24.
HEUFT CleanDesign
Pulire con facilità: costruzione ottimizzata per l'igiene.
Accessibile, pulito e sicuro: il sistema HEUFT CleanDesign rende possibile l'uso dei dispositivi HEUFT in aree sensibili dal punto di vista igienico. Superfici inclinate facilitano la pulizia e prevengono l'accumulo di sporco.
Leggi di più...
Speciali canali e aperture permettono ai liquidi necessari per la pulizia di essere drenati completamente. Di conseguenza i germi e i batteri hanno poche superfici utili di contatto. Speciali alloggi e aperture garantiscono un'ottimale accessibilità. Le parti elettroniche sono totalmente protette. Le aree sensibili, quali i moduli ispettivi, sono a prova di polvere e protette contro spruzzi e getti d'acqua.
speed-independent X-ray inspection
a higher degree of detection reliability than that obtained when inspecting the already packaged product
an unequalled low radiation dose
motion blurs minimised due to extremely short exposure times
optional dual beam technology for a 3D reconfirmation
the detection performance is not impaired by the product's own signal
highest sensitivity due to the use of the HEUFT reflexx technology
self tests for performance validation
extremely compact construction in accordance with the hygiene-optimised HEUFT CleanDesign